I admire people who have a dream and pursue it with everything they possess. In the case of Irishman John McGuire and his vision for GAME Golf, that's precisely what unfolded.
The result of him taking a life-changing risk, investing every ounce of energy and penny to his name, moving to America and plunging headfirst into a crowded golf marketplace, is GAME Golf – and it's a home run of Cabrera-like impressiveness.
Before we get to the official "product review," here is my initial meeting with John, back in January at the PGA Merchandise Show. GAME Golf had just hit the big stage for its official introduction to the golf world and John was brought to tears as his dream was being fulfilled in real time. Our conversation took place just a few minutes later…
<iframe width="640″ height="360″ src="https://www.youtube.com/embed/g0EjN8bFDO0″ frameborder="0″ allowfullscreen></iframe>
After the PGA Show, GAME Golf was overwhelmed with orders to the point that they couldn't keep up. Demand was outpacing supply for a few months as this fantastic idea caught the attention of golfers worldwide.
A few weeks ago, my review package arrived. The timing was excellent since the Michigan winter, having lasted a mere 9.5 months, was drawing to a close. I would finally have a chance to test out GAME Golf on actual grass!
<iframe width="640″ height="360″ src="https://www.youtube.com/embed/7wBTXztTT6I" frameborder="0″ allowfullscreen></iframe>
GAME Golf Review: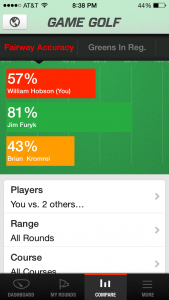 – Be prepared to see the stark reality of your game – Ouch!
– Setting up your personal system is a process that has been very well thought out. The interface allows the user to custom label each club, and even has additional tags for those golfers who switch out equipment while searching for the best combination.
– The ease and convenience of using GG during a round is quite impressive. There's no downloading of courses, entering of data, or cumbersome interruption of your normal routine. Just turn it on and remember to tag every shot. Excellent design!
– Battery life on the GG unit lasts a little more than 2 full rounds. Not bad, but it would be great if there was a meter to gauge remaining time.
– Post round uploading is a simple process – plug in the USB connector and the rest happens almost automatically. I would guess that future editions of GG will feature wifi or Bluetooth connectivity to cut down on the need for the USB connection.
– Once uploaded, you then have the chance to review the round and make corrections for any strokes where you forgot to tag the club, add a penalty, etc. This process is simple, though a tad cumbersome. Unfairly, we're immersed in an "instant feedback" culture, so the few seconds it takes to update/correct the uploaded summary seems to drag.
– The most stunning aspect of GG is the value. Back at the introduction, I was convinced there was going to be a hidden subscription fee in one form or another. I was wrong. This product is priced at $249 out the door, and it's a fantastic value.
CONCLUSIONS:
Product Quality: A+
Clarity of Golf application: A+
Overall Value: A+
MGL "Buy-o-Meter" (1-10 scale answering the "should I buy this" question): 10